Welcome to the School of Psychology
---
The School of Psychology is one of the largest in the University and is also, we believe, one of the very best.
AskAuckland Central
Visit us in Alfred Nathan House for information and advice on your degree, your enrolment, fee payments, how to find your way around the campus, Campus Card, visa renewals and more.
Take 10 with Dr Alex Taylor
Senior Lecturer Dr Alex Taylor, Director of the Animal Minds Lab gives us 10 minutes of his time to talk cumulative cultural evolution, creative challenges and having low expectations. Read more.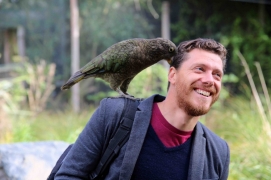 inSCight magazine
inSCight is the faculty's annual magazine for alumni and friends. In 2018 we explored diversity in science. We hope you enjoy reading these inspiring stories about our scientists, alumni and students.
We lead psychological science, scholarship and practice and most of our academic staff have impressive international research reputations, and several are recognised among the world leaders in their fields. Our teaching is very highly regarded, and we have several winners of Distinguished Teaching Awards on our staff. We see a strong link between research and teaching as the unique advantage that studying at a major international university offers.
Read more about our notable achievements, awards and rankings.