Welcome to the School of Psychology
---
The School of Psychology is one of the largest in the University and is also, we believe, one of the very best.
AskAuckland Central
Visit us in Alfred Nathan House for information and advice on your degree, your enrolment, fee payments, how to find your way around the campus, Campus Card, visa renewals and more.
Less competition, more community
Professor Niki Harre discusses her new book, The Infinite Game with Radio New Zealand. She invites people to re-imagine life as a game where playing is more important than winning.
Our subject is ranked 36th
According to the 2018 QS World University Rankings by subject, psychology at the University of Auckland is ranked 36th equal in the world. Find out more.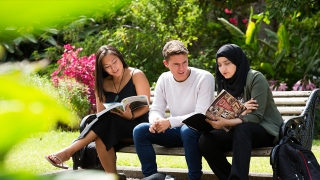 We lead psychological science, scholarship and practice and most of our academic staff have impressive international research reputations, and several are recognised among the world leaders in their fields. Our teaching is very highly regarded, and we have several winners of Distinguished Teaching Awards on our staff. We see a strong link between research and teaching as the unique advantage that studying at a major international university offers.
Read more about our notable achievements, awards and rankings.

Research Bazaar 2018 | Apply to attend now

22 May 2018

The Research Bazaar (ResBaz) is a three-day festival promoting digital literacy in modern research. This is a free, annual event to help you master several new research skills while having fun. Applications for ResBaz Auckland 2018 are now open. If you would like to attend, find out more and apply.